I sipped tea with Sonia Wright, Patient Care Manager, here at LloydsDirect. We talked about what makes working in the Patient Care team rewarding, challenges that pop up along the way and reminisced about the time she lived in sunny Jamaica!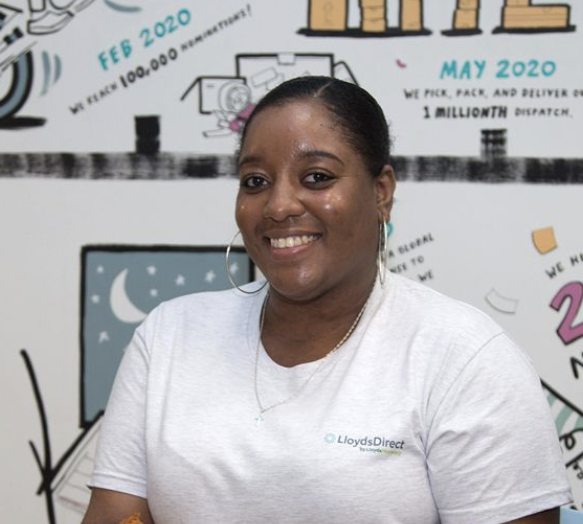 1. Can you tell me a little more about your role and the team you work on?
My name is Sonia, I work as the Patient Care Manager for the Patient Care team. We are at the front face of the business, we speak to all our patients and GPs on a multitude of platforms.
2. What's the team's overall goal?
Our team's overall goal is to be that touchpoint — to help patients throughout their journey with us. From signing up to after their medication has been dispatched, we're there to help and make it as simple as possible for them.
We have internal tools to support our day to day and access patient details: Support Tool, CX, GP Practice Checker. Titan, our patient medication record system, is used on a daily basis too. Intercom for chats and emails – that is our typing chat function on the app or the website. We have Aircall which is for all of our phone calls, Trustpilot for reviews, and Agorapulse for all our social platforms like Facebook, Twitter and Instagram. We also use NHS emails, which is how we contact our GP surgeries.
4. What do you enjoy most about working in the Patient Care team?
The team! I think with every role, there are days when it's really tough, but the team is so great. They are energetic and we honestly feel like a family. They are why I enjoy coming to work. We all have a passion to help our patients. We have a duty of care to support them which resonates throughout the whole team and makes us enjoy the role that we do.
5. What has been the biggest challenge you've had to overcome whilst being at LloydsDirect?
There are definitely challenges that pop up from time to time. It could be anything from adapting to internal tool changes to an increase in contact from patients, as a result of growth. One of our main focuses is keeping our first reply time down, so we can support our patients as quickly as possible.
6. How would you describe the culture here at LloydsDirect?
Positive, uplifting, supportive and growth-focused. Let me elaborate on some of those. Positive is one of our values too. We celebrate small or big wins, we're always positive about the journey, our mission and our goals as a company. We encourage everyone to excel and grow within the company. We've had quite a few advisors from Patient Care who have gone on to work in other departments. We want people to progress in their career and are always proud and supportive of people's ambitions!
7. Weirdest snack habit?
I enjoy eating dry bowls of cereal as a snack, particularly Honey Bunches of Oats. In the morning I may follow that with a glass of milk, but not always. A sort of deconstructed breakfast feast.
8. Interesting fact about you?
I feel like I say this all the time, but it's interesting. I've lived in Jamaica for 10 years, from the age of 9 up until a week before I turned 20. I went to high school, sixth form there and it was bliss! My school was by a beach, we had cruise ships coming through the docks whilst in lessons. I always knew I wanted to go to university here in London, which is why I moved back and been here ever since.